•"Big-Band" Ultimate Tuning Tapes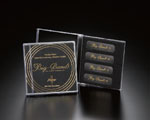 For exquisite music reproduction

Harmonix "Big-Band" tuning tapes improve the signal transmission when applied to analog and digital signal cables, headphone cables and speaker cables, and better conductance when applied to power cords.
•"TuningMaster" RS-1502M and "Hyotan" RFS-65m
Two tuning feet released from Million Maestro series
The "Million" Maestro series TuningMaster represents the latest innovation in tuning feet created specifically for tube audio equipment, CD transports and ribbon-type loudspeakers that are especially susceptible to harmful resonance.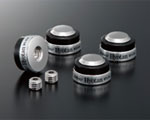 "Hyotan" is another new and proud Harmonix creation that complements the "Million" Maestro series of audiophile products. It is designed for various electronics and loudspeaker applications where space is limited.