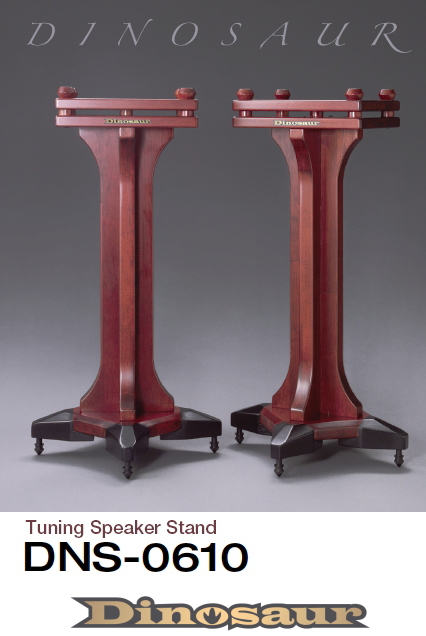 !! SOLD OUT !!
Dinosaur DNS-0610 Speaker Stand is a "State- of- the- Art" revolutionary Speaker Stand created by Combak Corporation from years of extensive research on the basis of the sound technology such as those of Piano. The exceptionally unique design of Dinosaur DNS-0610 bring out the full potential of the small size speaker systems to be totally unleashed, enabling you to hear more dynamic and information than you have ever heard!
By simply placing your speaker on a Dinosaur DNS-0610, it immediately bring you the sound you exhilarate and that you have never ever experienced before with small size speaker systems. You will begin to enjoy the more natural, dynamic, deeper base, wider sound stage and richer sound of a live performance in your listening room. There are many speaker stands available in a wide range of designs and prices, but when it comes to sonic performance, Dinosaur DNS-0610 is second to none.
The Dinosaur DNS-0610 is beautifully handcrafted and made of selected high quality woods. Gorgeous looking Dinosaur is simple to assemble and use as well. Audition the Dinosaur DNS-0610 and hear what you have been missing!
Specifications
Height
700mm (From tiptoe to tuning creeper)
Top board size
200 x 260mm
Wooden Base size
362 x 362mm
Weight
4.8kgs(10.6 lbs/each)
Materials
Selected high quality wood with brass metal tiptoe
Colors
Jacaranda wood finish or Satin black
Accessory
RF-909X
Packed in semi knock-down assembly
for further details »
* Specification and design of Dinosaur DNS-0610 may be changed without notice for the purpose of further improvement.