Standing Tall
A good stand for compact speakers is just as vital as the components inside. And the finest we've found comes from Dinosaur.
Looks of shock and disbelief, a wrinkled brow here and there and an occasional unsociable gestures of rejection are what you can expect to reap when you tell your friends, acquaintance and relatives how you just treated yourself to two speaker stands for 3,300 euros. Take it from us; we've been through this many times. There are quite simply some products that are better off doing the talking themselves. And one of them is Dinosaur's DNS-0610.
Enthusiastic commentaries were all our ears heard when we invited more or less an outsider from a publishing house over to demonstrate the difference in sound to our trusty old Dynaudio floor stands. Even he recognized right away how our Micro Utopias on the Dinosaur made music in a manner that was quite simply larger, more relaxed and engaging.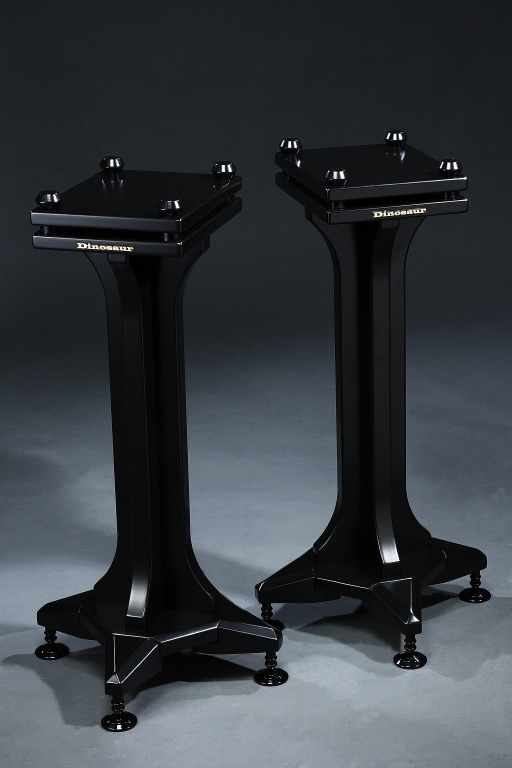 Virtually everything about the sound – i.e. structures, spatial relationships and even the most subtle nuances in the way the overtones were reproduced – appeared more polished and tangible, and arrived at the listening position with greater precision and magnificent definition. We can proudly report that never before have we enjoyed our compact reference on so a high a plane and with such a refined bass fundament.
The Dinosaur label, by the way, if from the house of Harmonix. You probably know the name. This Japanese manufacturer offers an entire range of sinfully expensive – yet sonically unimpeachable – tuning devices, which come highly recommended especially for giving your sound system that finishing touch.
The two elegant stands are crafted of lightweight wood that easily dissipates all speaker vibration and resonance. What's more, they also sit on solid spikes (Harmonix feet are included), which can be adjusted just as delicately as the puck-like supports atop the stand. With these, there's no problem in perfectly aligning any converter. Careful installation and a few days to get acclimated are of course essential for best results.
Naturally, in light of such a mighty undertaking, there will be differences of opinion about the price and some who will ask if it would not be better to invest the money in new electronics or other speakers. Still, those desiring to experience their beloved compact speakers in undreamed of realms of sound might want to – no, must – put their ears on the line.
Review by Carsten Barnbeck
[close]