Master Music
We sell the following listed XRCD worldwide;
Most of listed were XRCD mastered under the supervision of K. Kiuchi.
The followings are 24bit Super Analog, Original Analog Recording.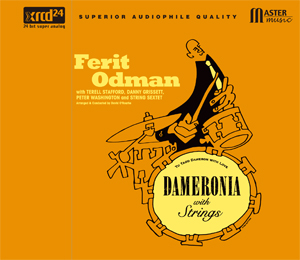 XRCD24-NT019
Ferit Odman " DAMERONIA with Strings"
1. On A Misty Night
2. If You Could See Me Now
3. Just Plain Talkin'
4. Smooth As The Wind
5. Look, Stop & Listen
6. You're A Joy
7. Our Delight
8. Soultrane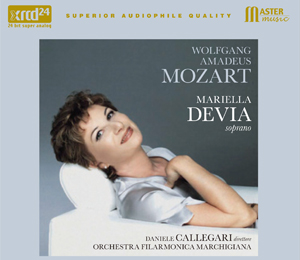 XRCD24-NT018
WOLFGANG AMADEUS MOZART
Mariella Devia, soprano
Daniele Callegari, direttore
Orchestra Filarmonica Marchigiana
1. Exultate, jubilate KV165
2. Regina Coeli KV108
3. Laudate Dominum KV339
4. Ave verum corpus KV618
5. Eine Kleine Nachtmusik KV525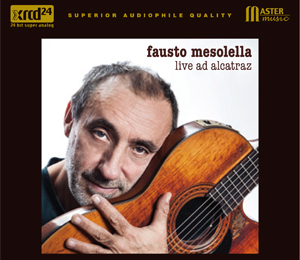 XRCD24-NT017
Live ad Alcatraz
Fausto Mesolella
1. SONATINA IMPROVVISATA DíINIZIO ESTATE
2. AI GIOCHI ADDIO (GIULIETTA E ROMEO)
3. O SOLE MIO
4. LIBERTANGO
5. IMAGINE
6. BLACK OR WHITE
7. AMAZING GRACE
8. LA PRINCIPESSA
9. SOMEWHERE OVER THE RAINBOW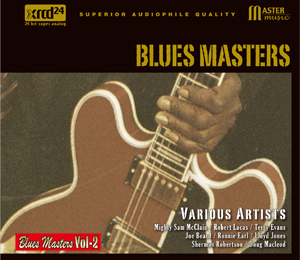 XRCD24-NT016
Blues Masters vol.2
Various Arists
1. MIGHTY SAM McCLAIN - A Soul That's Been Abused
2. ROBERT LUCAS - Good Morning Little Schoolgirl
3. TERRY EVANS - Blues No More
4. JOE BREAD FEATURING RONNIE EARL & THE BROADCASTERS - Just To Be With You
5. MIGHTY SAM McCLAIN - Give It Up To Love
6. TERRY EVANS - Money In Your Pocket
7. ROBERT LUCAS - Shed A Tear
8. LLOYD JONES - I'll Be Laughing (When He Makes You Cry)
9. RONNIE EARL & THE BROADCASTERS - Chili Ba Hugh
10. SHERMAN ROBERTSON - I Wonder Why
11. DOUG MACLEOD - Whose Truth, Whose Lies?
12. MIGHTY SAM McCLAIN - Got To Have Your Love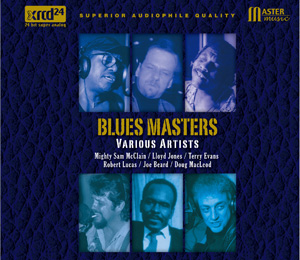 XRCD24-NT015
Blues Masters
Various Arists
Originally produced by Joe Harley in New York. As known, Blues Masters is actively performing around the globe and capture heart and soul of Jazz and Blues music lovers there.
XRCD24 Master Music produce is a compilation of best hit and selected blues music by 6 celebriting and great blues artists.
We are very happy and proud of being able to produce "Blues Masters" into XRCD24 and share this with our partonages.
Please enjoy excellence in sound and performance of Blues masters in XRCD24.


1. MIGHTY SAM McCLAIN - I'm So Lonely
2. RONNIE EARL& THE BROADCASTERS - Kansas City Monarch
3. MIGHTY SAM McCLAIN - Too Proud
4. DOUG MACLEOD - Bring It On Home
5. ROBERT LUCAS - Feel Like Going Home
6. TERRY EVANS - Down In Mississippi
7. LLOYD JONES - Can't Get You Off Of My Mind
8. ROBERT LUCAS - Moonshine
9. JOE BEARD FEATURING RONNIE EARL & THE BROADCASTERS - Feets Out In The Hallway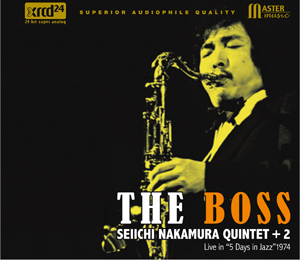 XRCD24-NT014
The BOSS
Seiichi Nakamura Quintet+2
Originally produced by Tee Fujii of TBM Records, Japan in 1974.
"The BOSS" is one of 5 albums recorded in a live of Special project "5 days In Jazz" designated for Jazz enthusiasm for the purpose of touching a real excitment of Jazz performance that TMB was hosted from March 22, 1974.
Well known in Jazz community around globe such as "Love is a Many Splendored Thinhs" and "When a Man loves a Woman" were among 5 albums recorded in the project.
As you listen to "The BOSS", the perofrmance of Seiichi Nakamura Quintet+2 is simplly one of greatest Jazz music ever heard.
The peculiar playing technique and unparalleled power of emotional expression will surely touch and capture listener's heart.
Enjoy "The BOSS".


1. OLD FOLKS
2. TOPPU~:A Gust
3. THE BOSS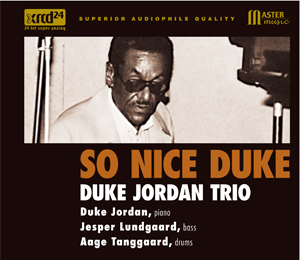 XRCD24-NT013
SO NICE DUKE
Duke Jordan Trio
Originally recorded by TBM Records, Japan in August 1982 when Duke Trio visited Japan for third times.
Duke Trio performed at the ideal spot for a live performance called "So Nice" in Nagoya in Japan "So Nice Duke" is album recorded their performance in a live.
The "So Nice Duke" is a miracle album Duke left for his fan, and performed when he was at 60 during his performance, skill and technique was in maturity. Music that Trio played are all most known standard numbers arranged intentionally for Duke fan. As you listen to XRCD24-NT013 "So Nice Duke", their performance is so great and unprecedented that you can recognize it was recorded in his best time.


1. TEA FOR TWO
2. STARDUST
3. MY FUNNY VALENTINE
4. JOR-DU
5. KISS OF SPAIN
6. ALL THE THINGS YOU ARE

7. SOLITUDE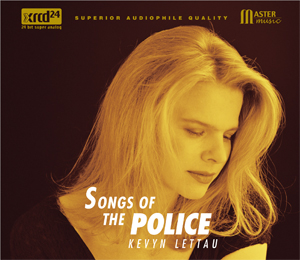 XRCD24-NT012
Songs of The POLICE
Kevyn Lettau
All songs written by Sting except "Murder by Numbers" written by Sting and Andy Summers.
Vocal: Kevyn Lettau. Produced by Michael Shapiro, Recorded at Schnee Studio.
All songs published by EMI, Black Wood Music Inc. Magnetic Publishing, BMI.


1. Message In A Bottle
2. Wrapped Around Your Finger
3. Every Breath You Take
4. Murder By Numbers
5. Every Little Thing She(He) Does Is Magic
6. Walking In Your Footsteps

7. King Of Pain
8. When The World Is Running Down-Interlude
9. Synchronicity 1
10. Don't Stand So Close To Me
11. De Do Do Do,De Da Da Da
12. I Born For You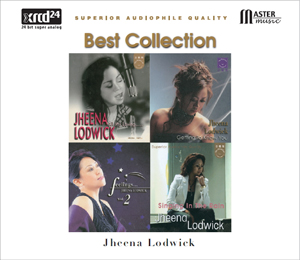 XRCD24-NT011
Best Collection
Jheena Lodwick
1. You Raise Me Up
2. I Don't Know How To Love Him
3. Emerald City
4. If You Love Me
5. Feelings
6. Super Star
7. Interlude
8. When Will I See You Again
9. All My Loving
10. I'll Never Fall In Love Again
11. Promise Me
12. Morning Has Broken
13. When A Child Is Born
14. Tears In Heaven
15. A Groovy Kind of Love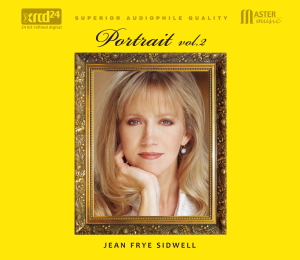 XRCD24-NT010
Portrait vol.2
JEAN FRYE SIDWELL
1. Route 66
2. Over The Rainbow
3. How Long Has This Been Going On
4. How High The Moon
5. The Island
6. On A Clear Day
7. There Will Never Be Another You
8. All Of Me
9. Girl From Ipanema
10. The Shadow Of Your Smile
11. The Days Of Wine And Roses
12. Meditation
13. It's All In The Game
14. Pure Imagination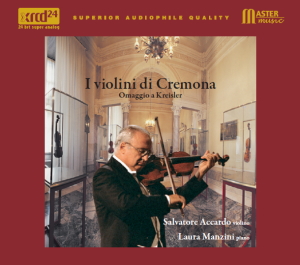 XRCD24-NT009
I violini di Cremona
Omaggio a Fritz Kreisler
Salvatore Accardo, Violin
Laura Manzini, Piano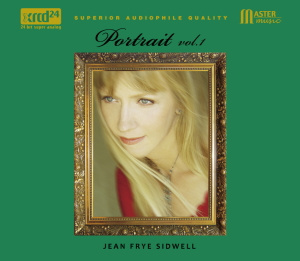 XRCD24-NT008
Portrait vol.1
JEAN FRYE SIDWELL
Jean in her grace and noble, many popular songs she sing in her style. They are so good and touching!
1. You've Got A Friend (For David)
2. I'll be Seeing You
3. Wind Beneath my Wings
4. Nature Boy
5. Misty
6. Alfie
7. East of the Sun (West of the Moon)
8. For All We know
9. As Time Goes By
10. I Left My Heart in San Francisco
11. When I Fall in Love
12. The Look of Love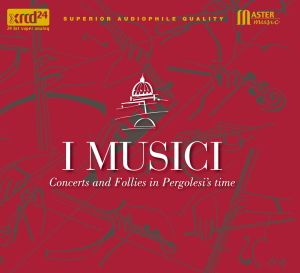 XRCD24-NT007
I MUSICI
Concerts and Follies in Pergolesi's Time
For the 300th anniversary of his birth
1710-2010

1 Francesco Geminiani 1687 - 1762

Concerto grosso n. 12 "La follia" per archi e cembalo 11' 16"

2 - 4 Giovanini Battista Pergolesi 1710-1736

Concerto per violino, archi e basso continuo in Si bem. magg. 12' 10" Antonio Anselmi, violino

5 - 7 Antonio Vivaldi 1678 - 1741

Concerto in sol min. per due violoncelli, archi e continuo RV 531 9' 37" Vito Paternoster e Pietro Bosna, violoncelli

8 - 10 Antonio Vivaldi 1678 - 1741

Concerto in Re Magg. per violino, archi e continuo "Grosso Mogul" RV 208 12' 17" Marco Serino, violino

11 - 13 Francesco Durante 1684 - 1755

Concerto per archi n. 8 in La Magg. "La pazzia" 11' 14" – Total Time 58' 53"

•XRCD24 24 bits mastered from a half inch analogue tape recorded, supplied from Fone Records in Italy.
XRCD24-NT006
Mississippi Moan
Bruce Katz Band
Artists:
Bruce Katz: Piano and Hammond B-3, Julien Kasper: Guitar, Tom Hall: Tenor and Baritone Sax, Mark Poniatowski: Bass, Ralph Rosen: Drums, Mike Costello: Harmonica, Special Guest — Mighty Sam McClain: Vocal ("Hanging On The Cross", "I'm Gonna Love You")
1. Hep-ology
2. Night Of Joy
3. Hanging On The Cross
4. Norton's Boogie
5. Mississippi Moan
6. In The Garden (Traditional) For Lee
7. Elmore's Glue
8. Jackalope Bar-B-Q
9. The Prowler
10. I'm Gonna Love You
11. Compared To What
12. Praise House
XRCD24-NT005
Amanda McBroom
Midnight Matinee
Artists:
Amanda McBroom: Vocals
Bob James: Keyboards
Robben Ford: Guitar
Lori Lieberman: Background Vocals
Peter Bunetta: Drums
Including other gorgeous artists such as Vail Johnson, Armo Lucas, Tom Peterson.
Pure Analog Tape recording and XRCD24 mastering.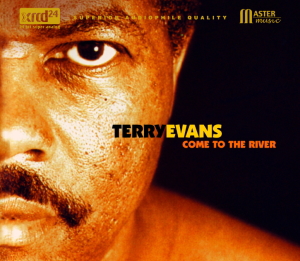 XRCD24-NT004
TERRY EVANS
COME TO THE RIVER
1. Get Up, Get Ready
2. My Babe
3. Please No More
4. The River
5. I Got Loaded

6. What You Need
7. I Just Want To Make Love To You
8. Feeling Allright
9. Tears Are Rolling
10. Love Is A Precious Thing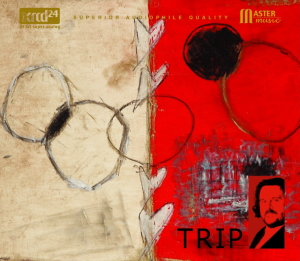 XRCD24-NT003 "TRIP" has been produced to XRCD24 under the license from Fone Record, Inc. It is of the great classical sampler including Salvatore Accardo Violin all music was originally recorded in analog and selected the best hit among album previously issued. Made with the superior XRCD24 mastering technology and under serious manufacturing and quality control, TRIP in XRCD24 brings out its original recording potential surprisingly natural and lifelike. Experience the sound of TRIP XRCD24 fascinate you.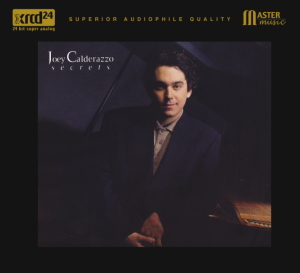 XRCD24-NT002
secrets
Joey Calderazzo
1. Filles De Kilimanjaro (Miles Davis)
2. No One Knows I'm Here
3. Aurora
4. Scriabin (Vince Mendoza)
5. Echoes
6. Secrets
7. Last Visit Home
8. ATM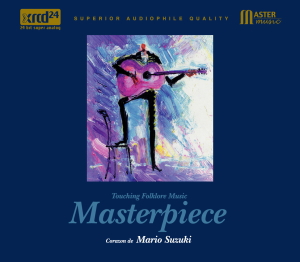 XRCD24-NT001
Masterpiece
Touching Folklore Music
corazon de Mario Suzuki
1. Preludio de Romanza Confesion
2. Tarde
3. Recordarse de Andalucia
4. Barcelona de Triste
5. Milonga Olvido
6. Edificio de Sueno
7. Tango Pasado
8. Tiempo de Corriente...Ventilacion
9. Celos

10. Preludio de Ventaja dos Guitarra
11. Eligia del Viento
12. Zamba Lejos de la Luz
13. Hablar Antano
Extra Track
Cine "Tierra Nieve de Nuevo" Tema de Moeko
14. Guitarra, Ver
15. ViolonCelo & Flauta, Ver
16. Orquesta, Ver


•Review by Stereo Magazine, Germany!
•Selected As A Dagogo Editor's Top Reference Disc!
Premium Records, The Musiclab and Other Valued Labels
We sell the following listed XRCD worldwide;
Most of listed were XRCD mastered under the supervision of K. Kiuchi.
The followings are 24bit Super Analog, Original Analog Recording.
HIQXRCD51
Tchaikovsky: "NUTCRACKER" suite from Ballet
Nutcracker is, the same as Swan Lake, one of most popular and highly regarded Ballet music. Philharmonia Orchestra conducted by Efrem Kurtz perform superb orchestral quality in tremendous dynamic contrast.

HIQXRCD49
Tchaikovsky: "SWAN LAKE" suite from the Ballet
Celebrated violinists Yehudi Menuhin perform the solo parts of Swan Lake, Efrem Kurtz Maestro Russian conductor conduct Philharmonia Orchestra.

HIQXRCD45
DVORAK: Concerto
Cello by Janos Starker/Walter Susskind conduct The Philharmonix Orchestra.

HIQXRCD44
MOZART: Piano Concertos NO.20 and 23
Piano by Daniel Barrenboim/English Chamber Orchestra.

HIQXRCD35
MAHLER:SYMPHONY NO.1
Carlo Maria Giulini conduct Chicago Symphony Orchestra.

HIQXRCD37
TCHAIKOVSKY:PIANO CONCERTO NO.1
John Barbiroili conduct Philiharmonia Orchestra.

HIQXRCD22
Andre Previn
RAVEL:BOLERO
London Philharmonic Orchestra

HIQXRCD26
Jean SIBELIUS
Symphony No.2 in D-major
Philharmonia Orchestra
by Paul Kletzki

HIQXRCD25
VIVALDI: THE FOUR SEASONS
Itzhak Perlman (violin)
London Philharmonic Orchestra

HIQXRCD14
BERLIOZ
Symphonie Fantastique Op. 14
Orchestre National de France
Leonard Bernstein
HIQXRCD9


BACH: VIOLIN CONCERTOS


Yehudi Menuhin, *Christian Ferras (violins)
Bath Festival Orchestra / Menuhin

HIQXRCD7


Tchaikovsky




1812 Overture


Romeo and Juliet, Marche Slave


André Previn


London Symphony Orchestra
HIQXRCD6


BEETHOVEN Triple Concerto


David Oistrakh, violin, Mstislav Rostropovich, cello
Sviatoslav Richter, piano
Berlin Philharmonic Orchestra
Herbert von Karajan, conductor
HIQXRCD3


HOLST - THE PLANETS, OP.32


André Previn conducting
London Symphony Orchestra
with The Ambrosian Singers
XR535-713-2


"Symphony Live In Vienna"




Sarah Brightman

"Symphony Live In Vienna" recorded a live performance in Vienna.
Sarah Brightman is superstar global scale artist in singing and moving in film, and over thirty million CD has been sold.
She has been experienced to be UNESCO Artist for Peace Ambassador and also the first artist have been invited two times to sing theme for Olympic.
Now she is challenging to be the first artist of cosmonaut, and she was cleared undergoing extensive mental and physical testing.
We certainly sure to create the dream for her performance upon her return to Earth from space.
"Symphony Live In Vienna" in XRCD2 bring you excitement of her performance truly like a live in Vienna.
XR480-245-9


ADAGIO




KARAJAN


BERLINER PHILHARMONIKER
HERBERT VON KARAJAN
Johann Pachelbel
1. Canon & Gigue
Jules Massenet
2. Méditation
Johannes Brahms
3. Andante
Edvard Grieg
4. ses Tod • Aase's Death
Wolfgang Amadeus Mozart
5. Adagio
Tomaso Albinoni
6. Adagio g-moll für Streicher und Orgel
Ludwig Van Beethoven
7. Allegretto
Johann Sebastian Bach
8. Air
Jean Sibelius
9. Valse triste op.44


XR983018-4


"The Look Of Love"




Diana Krall plays in XRCD24


Great hit Album "The look of Love" by Diana Krall
Enjoy! Diana's play and sing utterly esprit in XRCD24!
Available worldwide from us.

XR532-498-2


Diana Krall




Love Scenes


Diana Krall: piano, lead vocal; Russell Malone: guitar; Christian McBride: bass.
1. All or Nothing at All
2. Peel Me a Grape
3. I Don't know Enough about You
4. I Miss You So
5. They Can't Take That Away from Me
6. Lost Mind
7. I Don't Stand a Ghost of a Chance with You
8. You're Getting to Be a Habit with Me
9. Gentle Rain
10. How Deep Is the Ocean (How High Is the Sky)
11. My Love Is
12. Garden in the Rain
13. That Old Feeling
XR532-360-9


Diana Krall




ALL FOR YOU


Diana Krall (piano, lead vocal) with Russell Malone (guitar); Paul Keller (bass); Benny Green (piano on "If I Had You"); Steve Kroon (percussion on "Boulevard of Broken Dreams").
1. I'm An Errand Girl for Rhythm
2. Gee Baby, Ain't I Good to You
3. You Call It Madness
4. Frim Fram Sauce
5. Boulevard of Broken Dreams
6. Baby Baby All the Time
7. Hit That Jive Jack
8. You're Looking at Me
9. I'm Thru With Love
10. Deed I Do
11. A Blossom Fell
12. If I Had You
13. When I Grow Too Old to Dream
* All For You is Diana Krall's Grammy-nominated salute to a longtime musical role model, the legendary jazz pianist/vocalist Nat King Cole. The album captures the essence of the Cole trio's arrangements through Krall's sultry vocals and refined piano — she is featured in an appropriately unadorned trio setting with sidemen guitarist Russell Malone and bassist Paul Keller. This album, a perfectly-crafted artistic vision, casts new light on classic songs with soul, heart and intelligence.
XR480-246-5


PAGANINI for TWO




Works for Violin and Guitar


GIL SHAHAM, violin GÖRAN SÖLLSCHER, guitar

XR480-166-4


Diabolus in Music




Salvatore Accardo, Violin


London Philharmonic Orchestra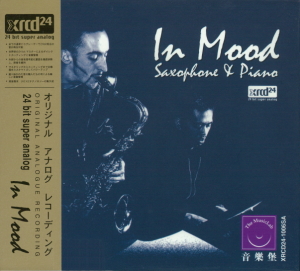 XRCD24-1006SA
In Mood Saxophone & Piano
Saxophone: Oliver Smith, Piano: Roel A Garcia
1. It's A Dream 'n' It's Reality
2. In Search Of Love
3. Loving Chimes
4. Thinking Of You In My Dreams
5. Medley
6. Tell It From The Heart
7. Red Tears
8. Lovers Under The Full Moon
9. Tianya Song tress
10. That Long Awaited Day For You Shall Come
11. Riverside Romance
12. So Much Tenderness So Much Tears
Followings are XRCD2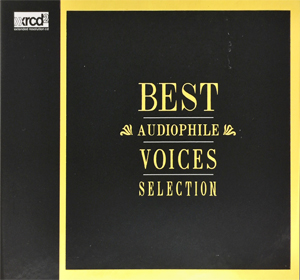 PR27978XRCD
Best Audiophile Voices Selection
1. Desperado
2. What A Wonderful World
3. What The World Needs Now Is Love
4. Perhaps Love
5. Fly Away
6. You Don't Bring Me Flowers
7. Fields of Gold
8. Marisa
9. Over The Rainbow
10. Better Be Home Soon
11. If
12. I Left My Heart On San Francisco
13. When I Dream
14. When You Say Nothing At All
15. The Look Of Love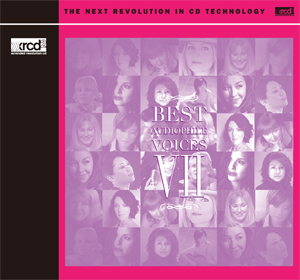 PR27976XRCD
BEST AUDIOPHILE VOICES Vol. VII
1. Saskia Bruin – The Look Of Love
2. Sarah Morrau – Vincent
3. Jeni Fleming Acoustic Trio – Time After Time
4. Emi Fujita – Your Song
5. Halie Loren feat. Matt Treder – A Whiter Shade Of Pale
6. Eva Cassidy – True Colors
7. Woong San – What The World Needs Now
8. Jeanne Newhall – Hungry Heart
9. Dina Blade – My Romance
10. Ela Lo – Have I Tald You Lately
11. Jheena Lodwick – For The First Time
12. Noon – I've Never Been To Me
13. Kelly Sweet – Je t'aime
14. Emilie-Claire Barlow – Breaking Up Is Hard To Do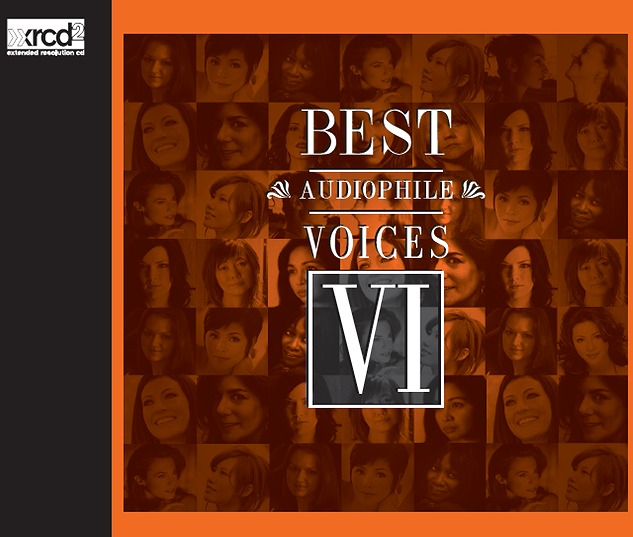 PR27975XRCD
Best Audiophile Voices Vol. Ⅵ
1. Lydia Gray - Sorry Seems To Be The Hardest Word
2. Rebecca Pidgeon - Spanish Harlem
3. Angela - First Of May
4. Emi Fujita - Longer
5. Janet Seidel – You belong to me
6. Emilie-Claire Barlow - The Very Thought Of You
7. Regine Velasquez - Leader Of The Band
8. Sarah Morgann - Through The Eyes Of Love
9. Eva Cassidy - Tennessee Waltz
10. Mary Ann Hurst - People Get Ready
11. Pamela Luss with Houston Person - It's Too Late
12. Kelly Sweet - Ready For Love
13. Salena Jones - A Song For You
14. Noon - Long Ago And Far Away
15. Niki King - Spartacus / The Look Of Love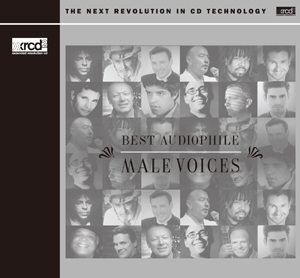 PR27974XRCD
BEST AUDIOPHILE MALE VOICES
PR27974XRCD is a compilation of various and selected male artists around the world.
They are singing popular and great hits music that fascinate listeners.
The series of Best Audiophile voices (BAV) Vol-1 to Vol-5 so far we have introduced are captivating million of BAV fans around the world and marks unparalleled number of sales. PR27974XRCD has been a long waited Male Audiophile Voices. PR27974XRCD is valued enough to add on to your collection.
Please enjoy it!
1. Tony O'Malley – Autumn leaves
2. Todd Gordon – Both sides now
3. Don Williams – You've got a friend
4. Lee Lessack with Brian Lane Green – Open ams
5. Monte Procopio – San Francisco
6. Tim Tamashiro – Imagination
7. Ai Somma – They all laughed
8. Joe Francis – Let's fall in love
9. DK Ibomeka – I get along without you vary well
10. Tony O'Malley – My way
11. Lee Lessack with Ken Page – Vincent
12. Hayati Kafe – For all we know
13. Livingston Taylor – Isn't she lovely
14. Tony DeSare – I feel the earth more
15. Sachal Vasandani – I could have told you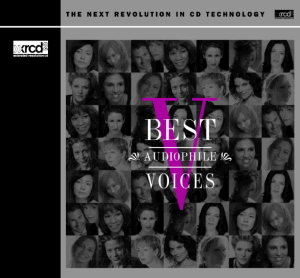 PR27967XRCD
Best Audiophile Voices Vol. V
1. Noon – 500 miles
2. Emi Fujita – The Rose
3. Stacey Kent – You've got a friend
4. Salena Jones – I don't want to miss a thing
5. Janet Seidel – You belong to me
6. Emilie-Claire Barlow – Blame it on my youth
7. Eva Cassidy – Bridge over troubled waters
8. Lee Lessack & Susan Egan – The look of love
9. Marianna Leporace – Bizarre love triangle
10. Roberta Gambarini – Smoke gets in your eyes / All the things you are
11. Jheena Lodwick – A groovy kind of love
12. Marcela – Loving you
13. Kimber Manning – What a wonderful world
14. Ilona Knopfler - Alfie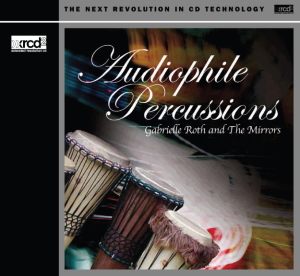 PR27962XRCD
Audiophile Percussions
Gabrielle Roth and The Mirrors
1. Zone VJ
2. Body Jazz
3. Prairie Ruins
4. Totem
5. The Calling
6. Eternal Dance
7. Raven
8. Cloud Mountain
9. Deer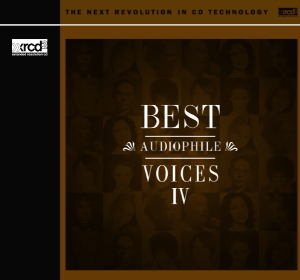 PR27960XRCD
Best Audiophile Voices IV
Long-waiting "Best Audiophile Voices" Vol-4 will be available from April 16. Featuring artists already well-known among audiophile including Salena Jones, Jane Duboc, Jheena Lodwick, Jean Fry Sidwell, Stacey Kent, Tim Tamashiro, Hayati Kafe and Al Somma 3 male artists appears in Vol-4 and made it out more attractive and enjoyable. Vol-4 contains 12 tracks and 3 tracks less in compared with normal CD but the sound quality of XRCD2 will be surely satisfy enough long waiting audiophile. Enjoy it!
1. Salena Jones - You Don't Bring Me Flowers
2. Jane Duboc - Lady Jane
3. Tim Tamashiro - The Way You Look Tonight
4. Marianna Leporace - If
5. Stacey Kent - What The World Needs Now Is Love
6. Jheena Lodwick - A Child Is Born
7. Noon - Sunny
8. Jean Frye Sidwell - Wind Beneath My Wings
9. Sara Gazarek - Too Young To Go Steady
10. Hayati Kafe - For All We Know
11. Trisha O Brien - Dindi
12. Al Somma - The Very Thought Of You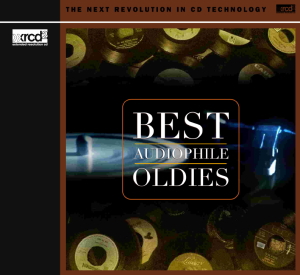 PR27956XRCD
Best Audiophile Oldies
A compilation of the great hits of various artists in 1950 to 60. This CD contains 20 tracks well-known songs and artists such as Diana by Paul Anka, Stupit Cupid by Connie Francis, Autumn Leaves by Andy Williams and more. It was made in Extended high resolution XRCD2, mastered and produced by a team of XRCD mastering engineer they are Tohru Kotetsu, Shizuo Nomiyama and Kazuo Kiuchi. This rich collection, artists and XRCD2 mastering technology will certainly touch your soul.
1. Sealed With A Kiss - Brian Hylan
2. Tell Laura I Love Her - Ray Peterson
3. Jamaica Farewell - Harry Belafonte
4. Chances Are - Johnny Mathis
5. The End Of The World - Skeeter Davis
6. When I Fall In Love - Nat King Cole
7. Before The Next Teardrop - Freddy Fender
8. Let It Be Me - The Everly Brothers
9. Changing Partner - Patti Page
10. Diana - Paul Anka
12. Will You Love Me Tomorrow - The Shirelles
13. Three Coins In The Fountain - Four Aces
14. Tom Dooly - The Kingston Trio
15. Autumn Leaves - Andy Williams
16. Smoke Gets In Your Eyes - The Platters
17. Silence Is Golden - The Tremeloes
18. Cherry Pink & Apple Blossom White - Eddie Calvert
19. April Love - Pat Boone
20. The Story Of My Life - Marty Robbins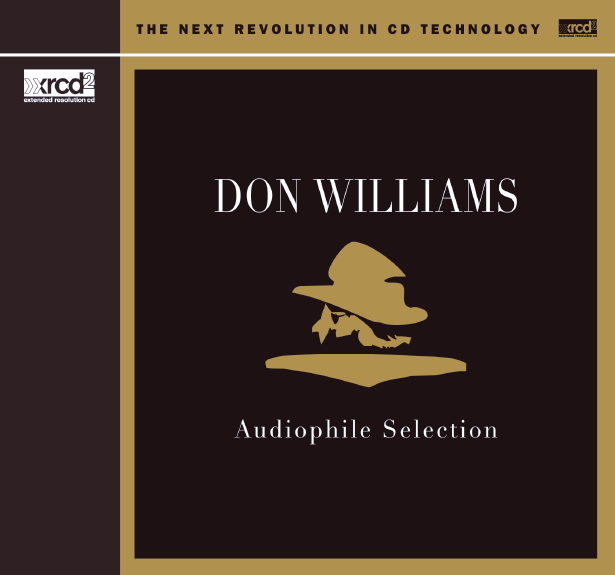 PR27955XRCD
DON WILLIAMS
Audiophile Selection
Don William's "Best Hits" selection for audiophile. His country songs with warm, sweet and touching in husky voice may surely capture not only country song listeners but many music lovers. Highly recommend!
1. I'm Just A Country Boy (Barer / Brooks) TRO Essex Music Ltd.
2. Where Are You (Williams) Polygram Music Publishing Ltd.
3. When I'm With You (Williams) Chappell-Morris Ltd.
4. All I'm Missing Is You (Holyfield) Polygram Music Publishing Ltd.
5. You're My Best Friend (Holyfield) Polygram Music Publishing Ltd.
6. Till The Rivers All Run Dry (Holyfield) Polygram Music Publishing Ltd.
7. I'm Getting Good At Missing You (Holyfield) Polygram Music Publishing Ltd.
8. Turn Out The Lights (And Love Me Tonight)(McDill) Polygram Music Publishing Ltd.
9. Some Broken Hearts Never Mend(Holyfield) Polygram Music Publishing Ltd.
10. Don't You Think It's Time(Williams) Polygram Music Publishing Ltd.
11. My Woman's Love(Williams) Polygram Music Publishing Ltd.
12. Goodbye Isn't Really Good At All(Williams) Polygram Music Publishing Ltd.
13. It Must Be Love(McDill) Polygram Music Publishing Ltd.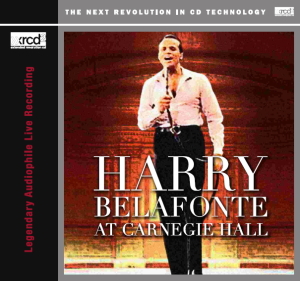 PR27952XRCD
Harry Belafonte At Carnegie Hall
Orchestra conducted by Robert Corman
Harry Belafonte at Carnegie Hall, the most sensational live recording now came in XRCD2! Perhaps the best 15 tracks such as MAILDA, DANNY BOY have been stored with full length of total playback of 77.18 minutes may be one among CDs sold on the market. Belafonte's spontaneous sorcery and performance of live recording at the Carnegie brings you again a treasure of Belafonte performance and Hall climax with superstar in this XRCD2. It's rarely exceptional!
1. INTRODUCTION / DARLIN' CORA
2. SYLVIE
3. COTTON FIELDS
4. JOHN HENRY
5. THE MARCHING SAINTS
6. DAY O
7. JAMAICA FAREWELL
8. MAMA LOOK A BOO BOO
9. COME BACK LIZA
10. MAN SMART (WOMAN SMARTER)
11. HAVA NAGEELA
12. DANNY BOY
13. CU CU RU CU CU PALOMA
14. SHENANDOAH
15. MATILDA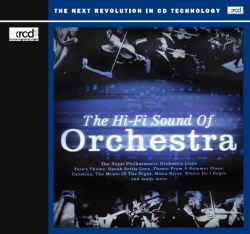 PR27824XRCD
The Royal Philharmonic Orchestra Plays
The Hi-Fi Sound Of Orchestra
1. Tara's Theme
2. Theme From A Summer Place
3. Speak Softly Love
4. Cavatina
5. The Music Of The Night
6. Moon River
7. Where Do I Begin
8. Pachelbel's Canon
9. The Way We Were
10. Memory
11. Evergreen
12. Send In The Clowns
13. Some Enchanted Evening
14. Summertime
15. Over The Rainbow
16. Lara's Theme
17. As Time Goes By
18. The Second Time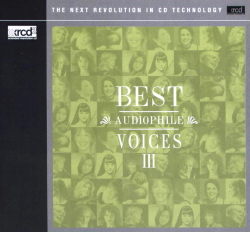 XRCDPR27864
BEST AUDIOPHILE VOICES III
1. Vincent - Sara K
2. Fields Of Gold - Emi Fujita
3. That's All - Dina Blade
4. We've Only Just Begun - Salena Jones
5. Alfie - Jean Frye Sidwell
6. Close To You - Noon
7. Secret Love - Janet Seidel
8. You Become My Song - Jackie Allen
9. When You Say Nothing At All - Alison Krauss
10. But Beautifull - Jacqui Dankworth
11. In This Room - Leslie Tucker
12. Photograph - Karen Lane
13. Morning Has Broken - Jheena Lodwick
14. Auld Lange Syne/Bring It On Home To Me - Rebecca Pidgeon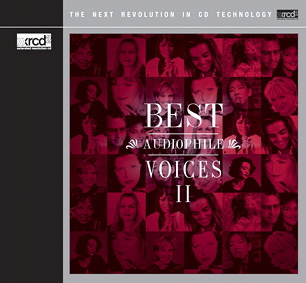 XRCDPR27840
BEST AUDIOPHILE VOICES II
1. Desperado - Emi Fujita
2. Fieds of gold - Eva Cassidy
3. Better be home soon - Andrea Zonn
4. I left my heart in San Francisco - Jean Frye Sidewell
5. Fly away - Corrinne May
6. That ole devil called love - Etta Jones
7. Can't take my eyes off you - Sophia Peterson
8. Both sides now - Jeanette Lindstrom & Steve Dobrogosz
9. Stay - Alison Krauss
10. My foolish heart - Salena Jones
11. In a sentimental mood - Jacqui Dankworth
12. When I fall in love - Claire Martin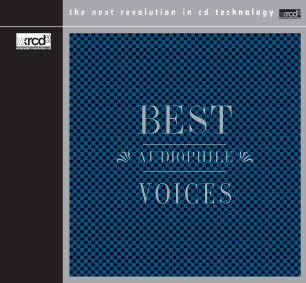 XRCDPR27901
BEST AUDIOPHILE VOICES
1. What a Wonderful World - Eva Cassidy
2. It Wouldn't Have Made A Difference - Alison Krauss
3. So Nice - Stacey Kent & Jim Tomlinson
4. When I Dream - Carol Kidd
5. Perhaps Love - Jheena Lodwick
6. Marisa - Dave's True Story
7. Song For The Journey - Tish Hinojosa
8. Sylvia Hotel - Cheryl Wheeler
9. You Light Up My Life - Salena Jones
10. Ain't No Sunshine - Eva Cassidy
11. The Look of Love - Jeanette Lindstrom & Steve Dobrogosz
12. Too Young To Go Steady - Karrin Allyson
13. Skylark - Monica Mancini
14. Overjoyed - Nnenna Freelon

BMG, DECCA, JVC, Magnum, Mercury, Philips, Universal
We sell the following listed XRCD worldwide.
Choice of famous and collective albums from BMG, Decca, JVC, Magnum, Mercury, Philips and Universal Music in Extra High resolution XRCD2 and XRCD24.


XR24BS616


Bengawan Solo

1. KRONCONG MORITSKO
2. KRONCONG KEMAYORAN
3. STAMBUL BUNGA MAWAR
4. BUNGA ANGGREK
5. BENGAWAN SOLO
6. PUTRI SOLO
7. YEN ING TAWANG
8. WALANG KEKEK
9. KALUNG MUTIARA
10. JEMBATAN MERAH
11. BENGAWAN SOLO
JVCXR-0226


Benjamin Britten


Young Person's Guide to the Orchestra
Variations on a Theme of Frank Bridge

XR480-674-1


Mozart The Violin Concertos–Highlights


Anne-Sophie Mutter
London Philharmonic Orchestra
XR480065-7


Anne-Sophie Mutter




CARMEN-FANTASIE


Well known in our community and million seller CARMEN-FANTASIE
by Anne-Sophie Mutter is released in XRCD2!



XR724353446321


NAT KING COLE




GREATEST LOVE SONGS

1. Stardust
2. Answer Me
3. Autumn Leaves
4. Walkin' My Baby Back Home
5. These Foolish Things
6. There Goes My Heart
7. A Nightingale Sang In Berkeley Square
8. You Made Me Love You
9. A Blossom Fell
10. More
11. Love Letters
12. Oh How I Miss You Tonight
13. Brazilian Love Song
14. You're My Everything
15. Love Is A Many Splendored Thing
16. You'll Never Know
17. He'll Have To Go
18. Stay As Sweet As You Are
19. The More I See You
20. The Party's Over


XR602498450765


CARPENTERS GOLD




GREATEST HITS

1. Yesterday Once More
2. Superstar
3. Rainy Days And Mondays
4. Goodbye To Love
5. It's Going To Take Some Time
6. I Won't Last A Day Without You
7. For All We Know
8. Jambalaya (On The Bayou)
9. Touch Me When We're Dancing
10. Please Mr. Postman
11. I Need To Be In Love
12. Solitaire
13. We've Only Just Begun
14. (They Long To Be) Close To You
15. This Masquerade
16. Ticket To Ride
17. Top Of The World
18. Only Yesterday
19. Sing
20. Calling Occupants Of Interplanetary Craft
(The Recognised Anthem Of World Contact Day)
XR82876629702


Kenny-G




Breathless



XR4908362


Eagles




Hell Freezes



XR4908352


Aron Neville




Warm Your Heart



XR4704502


OMAGGIO A STRADIVARI




VIVALDI LE QUATTRO STAGIONI




SALVATORE ACCARDO



XR5483572


Dire Straits




Brother In Arms



XR0665632


Laura Fygi




The Latin Touch



XR4618072


Andea Bocelli




Romanza



XR4428837


BEETHOVEN


VIOLIN SONATAS
DAVID OISTRAKH – LEV OBORIN

XR0663062
Secret Garden
Secret Garden Songs