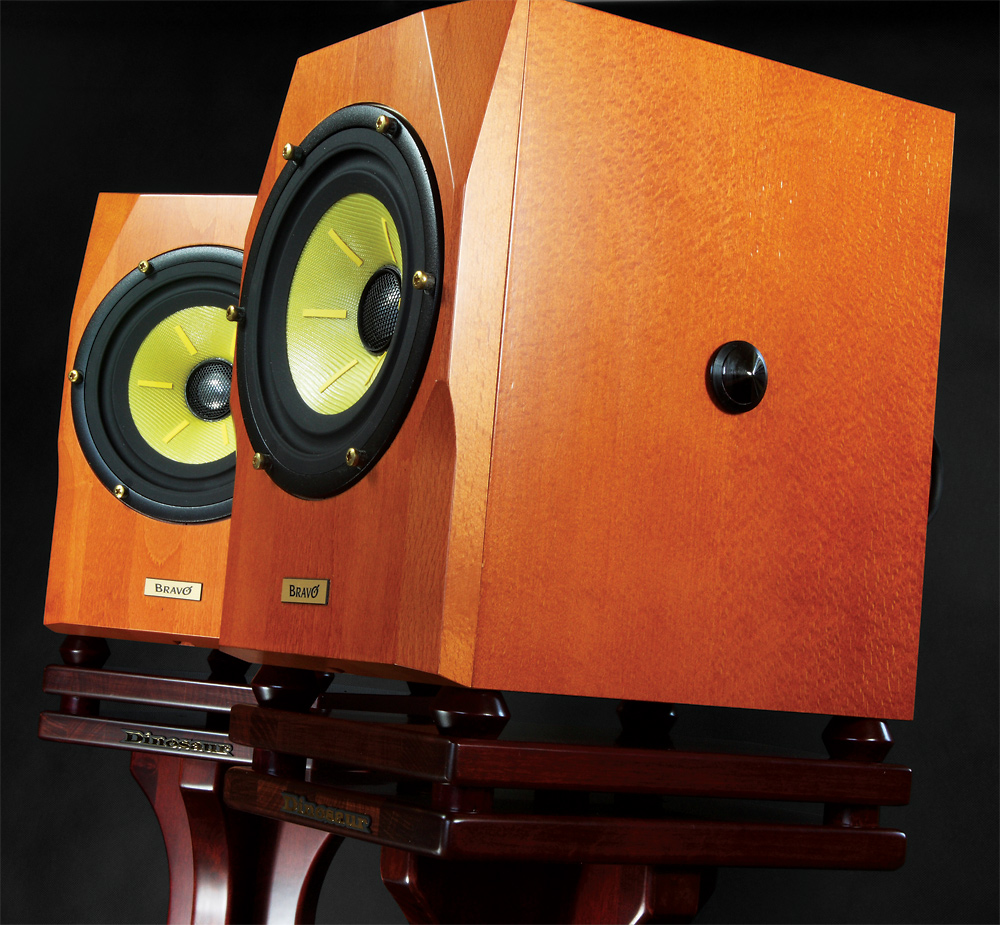 Fill Your Room With Clean, Rich and Powerful Sound! - Bravo! the Reference Nearfield Studio Monitor
The Bravo! is the finest speaker in its class, a speaker that uses proprietary coaxial driver technology developed by Gradient in Finland and Norway's SEAS; the custom One-Point-Source driver is a highly specialized system which employs an on-axis format ideal for a small listening space. When you hear the rich and beautiful, full-bodied sound that comes out of this little package, only one word will come to mind: "Bravo!"
•FOR DEMANDING USE
The Bravo! is a tiny book-end speaker whose sound compares to that of much more expensive "high-end" models. It is designed for use in small to medium size rooms or in any situation where space is limited.
•TAILORED FREQUENCY RESPONSE
The airy and easy-to-listen-to sound balance of this speaker, which has been achieved through long term listening tests, is the result of optimized on-axis frequency response and power response curves. When properly positioned, the Bravo! will delight the listener with a clean, open sound stage and true-to-life bass impact.
•POINT SOURCE
The one-point source driver used in the Bravo! is very special. Designed by COMBAK Corporation with technology developed by Finland's Gradient and SEAS of Norway, it boasts controlled dispersion patterns and an ultra- smooth spectral balance over a wide listening area. The trademark of this design is pinpoint sound staging with exceptional depth and width.
•AN EASY AMPLIFIER LOAD
The nominal impedance of the Bravo! is eight ohms, and rarely drops below seven ohms, making it an easy life for even low-powered amplifiers. The recommended power per channel is 20-150 Watts. In any given room, the required amplifier power will be affected by the room volume, reverberation time and listening level.
•EXCELLENT TRANSIENTS
The design of the Bravo! is based on a closed box principle, infinite baffle. This allows a bass roll-off of 12dB/octave, which will be compensated by the natural boost of a normal brick, concrete or stone walled room. As a net result, the bass is clean and precise without the typical upper bass emphasis, or boom, exhibited by ported designs. Thus transients are reproduced naturally.
•NO GRILL DIFFRACTION
The standard cloth grills of most speakers create muffling, diffraction and early reflections from the speaker itself. This degrades the accuracy of the sound and sound stage. Thus the front grill of the Bravo! is made of metal mesh, which has no effect on the quality of the sound. Also, should children or pets touch it, they will not be harmed.
•MAGNETIC SHIELDING
In many domestic environments, speakers are positioned very close to a television, where they will interfere with and distort the picture. The Bravo! causes no such problems, however, because it comes with magnetic shielding.
•EASY POSITIONING
With a total volume of only eight liters, the cabinet is very easy to position. Best results are achieved on good quality stands, even close to a back wall—but out of corners. Excellent results can also be attained with the Bravo! fixed on wall brackets, or set on a bookshelf.
•FOR CINEMA SURROUND SYSTEMS
A high quality five channel sound system can be built using the Bravo! for front, center and surrounds.
Specifications
Loading principle
two-way, closed box
Drivers
coaxial, point source; 170mm bass/midrange driver with fiberglass
cone; 25mm aluminum dome; made by SEAS of Norway
Frequency Response
80Hz-20kHz +/-2.5dB-6dB@55Hz
Sensitivity
87dB(2.83V/1m)
Impedance
8ohms nominal, minimum 7ohms
Crossover frequency
2,800Hz
Recommended amplifier
20-150W
Features
magnetic shielding
front baffle, natural combined wood
Finish
Black, Cherry
Speaker Terminal
Bi-wire, WBT-0763
Terminal plate WBT-0531. 05.
Weight
8.0kg
Dimensions
190mm(W) x 290mm(H) x 280mm(D)
Manufacturer
The Bravo! is a proprietary design manufactured for COMBAK Corporation by Finland's Gradient Ltd.
Specifications and appearances are subject to change without notice.